Flt Lt Henning Pedersen
(1918 - 1999)
Profile
Henning Pedersen volunteers for the Royal Air Force during the Second World War, but wins distinction in No. 489 (RNZAF) Squadron and No. 279 Squadron.
Henning Pedersen is born on 6 January 1918 in Copenhagen. [1]
In London in April 1940
In April 1940 Henning Pedersen is in London as ground mechanic for Det danske Luftfartsselskab (Danish Airlines). On 9 April 1940, the German troops cross the Danish borders.
The crew of the airlines' Fw 200A-02 (OY-DAM "Dania"), Harald Hansen, mechanic Jørgen Dalbro, wireless operator Uffe Jensen og air hostess Doris Jensen, was detained in Britain. Later Flight Lieutenant Vagn Christensen, the head of the London office and Henning Pedersen, who is ground mechanic is detained in Britain. [2]
Volunteers for the Royal Air Force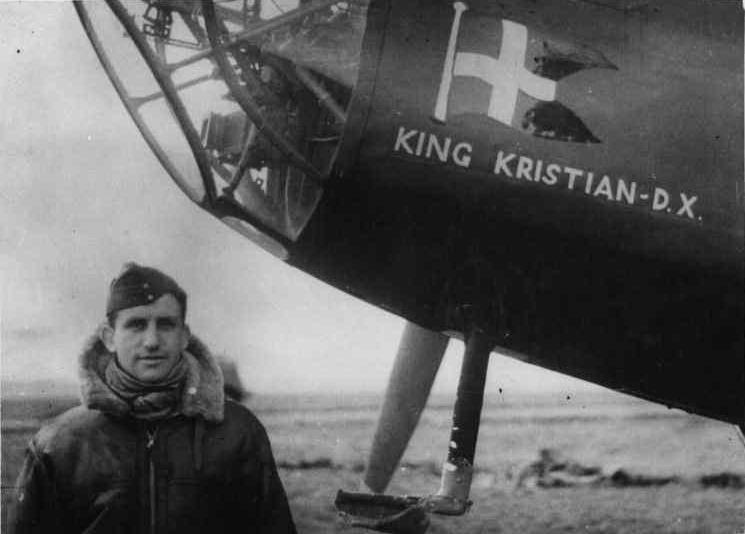 In November 1940, Henning Pedersen volunteers for the Royal Air Force. The details of his enrolment are not clear to me at this point, though. [3]
On 12 November 1941, he is promoted from Leading Aircraftman to Pilot Officer on probation. One year later, on 1 October 1942 he is promoted to Flying Officer on probation. [4]
Torpedo Bomber
In early 1943, he is attached to No. 489 (RNZAF) Squadron operating as a dedicated anti-submarine torpedo bomber unit on Handley Page Hampdens from RAF Skitten. Pedersen participates among other in operations off the Norwegian coast. [5]
Air-Sea Rescue Duties
At some point in 1943 Henning Pedersen is transferred to No. 279 Squadron. This squadron is the first ASR squadron to Employ airborne lifeboats. Detachments of the squadron equipped with Hudsons operations from south-west England for operations over the Bay of Biscay and the Western Approaches between April 1942 and December 1943. Docherty (2007) reports Pedersen taking part in several operations between 24/25 July and 8 October 1943. [6]
During one of these Henning Pedersen is involved in the rescue of a crew shot down over Denmark. Flying Fortress B17F (42-30206 "Happy Daze") of USAAF 410 Bomber Squadron, No. 94 Bomber Group takes off on 25 July 1943 from Rougman on an operation to Warnemünde. Returning from the target and crossing the Danish coast, the aircraft is attacked and shot down by three Focke-Wulf 190s. The crew apart from Right Waist Gunner Sgt Thomas M. Brown manages to evade the aircraft.
Flight Lieutenant Fitchew of No. 279 Squadron drops a airborne lifeboat near the survivors. The next morning a Danish fishing vessel takes the crew on board and sets course for England. Henning Pedersen, flying a Hudson III (OS-O) of No. 279 Squadron is involved in the search for the lifeboat. W/Cdr. Corry manages to locate the crew and directs High Speed Launches (HSLs) to the fishing vessel. The surviving crew was back in England landing at Yarmouth at 2245 hours. [7]
On 12 November 1943 Henning Pedersen is promoted to Flight Lieutenant. [8]
He returns to Denmark after the war and becomes commercial pilot.
Sources:
Thomson, 1956
Westphall, 1968
Thomson, 1956
London Gazette, issues 35416 and 35784
Thomson, 1956, David M Burrowes
Docherty, 2007, www.raf.mod.uk
Docherty, 2007, flensted.eu.com
London Gazette, issue 36254