FS Sten Lindhard
(1908 - 1944)
Profile
Sten Lindhard was working in Birmingham when the war broke out. In 1942, he enlisted in the Royal Air Force. He was killed in action in 1944.
Sten Lindhard was born on 18 November 1908 in Copenhagen. He was the son of Professor Erik Lindhard and Agnes Kirstine Lindhard (née Nielsen).[1]
Lindhard was one of several later Danish volunteers in the Royal Air Force educated at Sorø Academy, a boarding school in the small town of Sorø about 75 km south-west of Copenhagen. Lindhard attended the school from 1920 to 1926 where he finished his A-levels. He continued his studies at the Polytechnic Institute in Copenhagen qualifying as a civil engineer in 1932. He was employed by the Danish company F. L. Smidt & Co. in 1932. In 1936 he was employed by engineering and construction company Saabye & Lerche, but he traveled to England the same year working for the Danish company Th. Teisen from 1936 to 1942.[2] He was, thus, working in Birmingham as Denmark was occupied by the Germans on 9 April 1940.
Gardening in Danish Waters
Lindhard enlisted in the Royal Air Force in 1942. He was trained as a navigator in England and Canada.[3] The crew converted to Stirling at 1657 Conversion Unit. On 20 January 1944, he was posted to 149 (East India) Squadron, flying Stirlings.[4] Prior to this posting, he had been posted briefly to 513 and 214 Squadrons. He was promoted to Flight Sergeant on 21 October 1943.[5]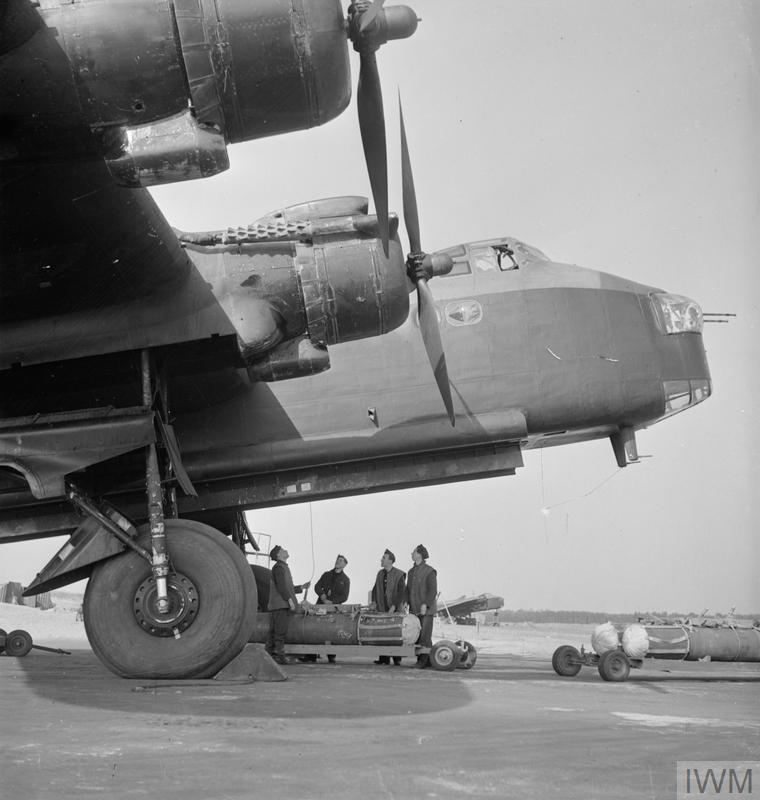 During the first three months of 1944, Bomber Command placed more than 4,000 mines in gardening operations. Lindhard were part of these operations.[6] Lindhard took off on his first operation on 24 February 1944. However, outbound for minelaying in Kiel Bay, the crew had to abandon the mission over the North Sea and return to base, due to failure of the W/T receiver.
The following night, Lindhard was to operate over Denmark. Stirling III EJ107/K took off from RAF Lakenheath at 1941 hrs for a gardening operation in the Sound between Denmark and Sweden. The first part of the mission went according to plan and the mines were laid as ordered. On the return flight, at 0130 hrs, the starboard inner engine packed up and caught fire at a height of 9,000 feet. Fg Off. R. V. Sanders (125979), who was piloting the Stirling, feathered the engine, but it remained partly unserviceable. At the same time, all the other engines feathered, giving the crew serious problems. Fortunately, the port outer and starboard outer engines unfeathered as the crew continued. The last engine, the port inner engine, unfeathered as well, but only to become unserviceable. Meanwhile, the aircraft had been lowing hight and was now flying at 2,500 feet. The crew sent out an SOS and jettisoned rear and mid guns, ammunition and equipment to loose weight. The Stirling recrossed the coast, 800 feet west of Cromer. The operational record book status that one of the six Stirlings dispatched for operations this night crash-landed at RAF Coltishall. It seems that it was EJ117. Lindhard participated in another two gardening operations on 11–12 March (San Sebastian) and 18–19 March (Heligoland).[7]
The Last Operation
In February 1944, 149 Squadron became involved in supply drops for the French resistance. A number of aircraft and crews were detached to RAF Station Tempsford to operate on behalf of Special Operations Executive (SOE) and Special Intelligence Service (SIS).[8] Lindhard participated in four of these 'special operations', three of which were successfully carried out on 5–6, 13–14, and 30–31 March. Information is scarce on the specific targets of these operations.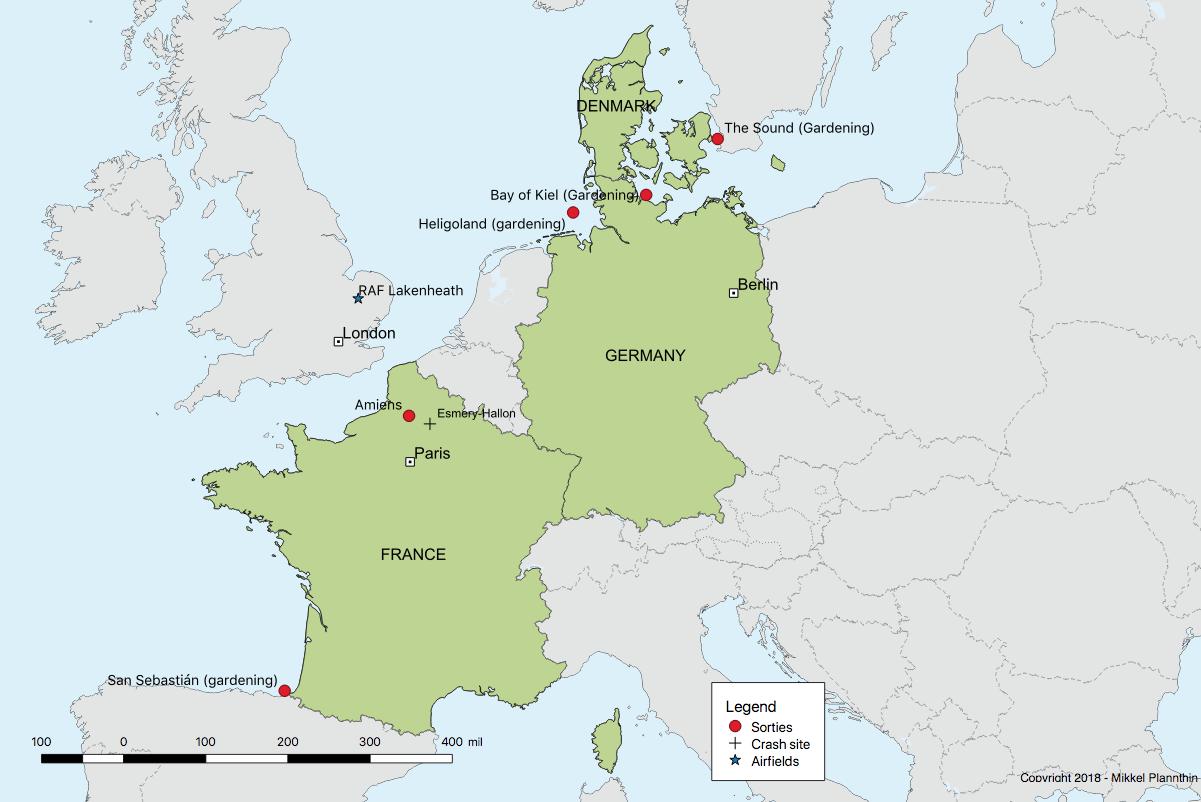 Between these operations, the crew was briefed for their first bombing raid on 15 March 1944. The target was the marshalling yards at Amiens, but—about 30 miles from the target—they had to abort due to engine failure. Another Danish airman, John Norgaard, was killed in action in this attack. Lindhard's crew returned to France for what turned out to be their last special operation on 9–10 April. Stirling III LK382/Q took off from RAF Lakenheath at 2243 hrs, but the aircraft failed to return. Near Esmery-Hallon in the Somme area, it was attacked by a German night fighter led by Hauptmann Kurt Fladrich of 9./NJG4.[9]
Endnotes
[1] DNA: parish record, Christians Sogn.
[2] Soransk Samfund, 1969.
[3] Hannover, Dansk Civilingeniørstat 1955 (1956), p. 500.
[4] NA: AIR 27/1004.
[5] NA: AIR 27/1322–23, 1976.
[6] Mace, M., J. Grehan, and A. T. Harris. Bomber Harris: Sir Arthur Harris' Despatch on War Operations, 1942-1945 (2014), section 102.
[7] NA: AIR 27/1004.
[8] Johnston and Carter, Strong by Night 'Fortis Nocte' (2002).
[9] Boiten and Mackenzie, The Nachtjagd War Diaries, Vol. 1 (2008).