Mogens Max Møller
(1925 - 1945)
Profile
Mogens Max Møller was born in Denmark, but the family emigrated to the United States in 1929. He volunteered for the United States Air Force in 1943, but was killed in action in March 1945.
Mogens Max Møller was born on 13 February 1925 in Søborg outside Copenhagen. He was the son of Ejnar Møller and Hilda Augusta Møller (née Klein). Møller's parents met each other in the United States, and married in Omaha, Nebraska in 1914.[1] The father had arrived in 1911 and the mother in 1913.[2]
In the early 1920s, the family returned to Denmark living here until 1929. The family emigrated to the United States in April 1929 settling in Brooklyn, New York.[3]
USAAF
Møller enlisted in the US Army in New York on 6 April 1943 (32883886).[4]He was naturalised as citizen of the United States on 24 September 1943, while serving as private in 'B' Company, 38 Infantry Training Battalion, Camp Croft in South Carolina.[5] He was, thus, still a Danish citizen, when he enlisted in the US Army.
In 1945, he was serving as a sergeant and waist gunner in the 301st BG, 353rd BS. This unit was operating from Lucera Airfield in Italy.[6]
Last operation
On 4 March 1945, cloud cover forced 301st BG to hit alternative targets in Yugoslavia and Austria. Møller's crew, flying in B-17G 44-8390 'Garbage Cannie', was one of eighteen crews attacking Zagreb's western marshalling yards. The raid was successful blocking all rail traffic and causing damage on repair shops, freight cars and factories. Buildings at a nearby airfield and a residential area was hit as well. The crew reported moderate, accurate flak at Zagreb.[7]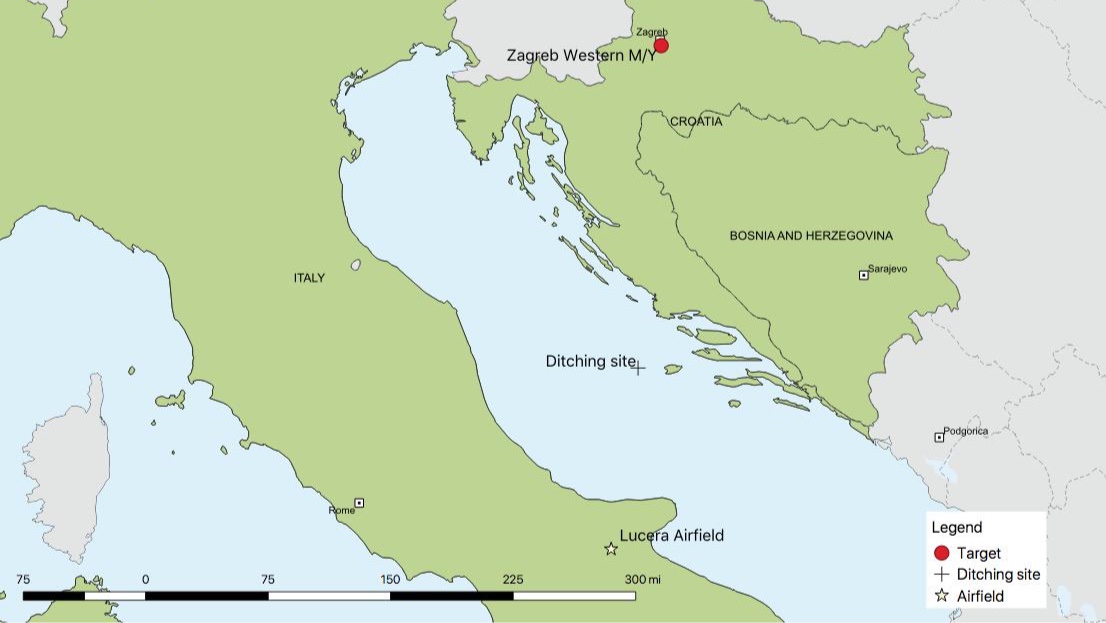 'Garbage Cannie' was hit over the target. At first the crew thought they would make it home to base, but eventually they had to ditch in the Adriatic Sea. They were last seen crossing the coast near the Katina island on the Adriatic coast at 1600 hours.
In a statement recorded on 11 March 1945, the radar navigator, 2nd Lt Epstein told that
All members of the crew got out in an orderly fashion. The dinghies did not come out and we had to wait for two of the crew members to pull them out. During that time were standing on the wing and a very large wave hit us and washed some of the crew members away.[8]
The co-pilot, 2nd Lt Peter C. Konstantacos, was the only member of the crew, who saw Møller after ditching.
I was the only one who saw the waist gunner Mogens Max Moller, 32883886. It was at infrequent intervals on crest of waves that I sighted him. He was obscured at times by an oxygen bottle which was floating near him. He was a great distance away. I can't understand how he became so far removed in such a short time.[9]
The surviving member of the crew and Yugoslav partisans searched for Møller that night, and next morning they searched the sea in a fishing boat to find trace of him. Unfortunately, they had no luck, and in all probability he died by drowning or by exposure to the cold water. Moller flew a total of about ten missions.
Three of the ten crew members were disappeared in the Adriatic Sea. These were apart from Møller the navigator Second Lieutenant Finley J. Dutton, O-2001366 and radio operator Technical Sergeant Glen R. Hayes (16056864).[10]
Endnotes
[1] Parish registration, Søborggaard Sogn.
[2] New York, Passenger and Crew Lists (including Castle Garden and Ellis Island), 1820-1957.
[3] Ancestry: New York, Passenger Lists, 1820-1957, 1930 United States Federal Census, 1940 United States Federal Census.
[4] U.S., World War II Army Enlistment Records, 1938-1946.
[5] Ancestry: South Carolina, Naturalization Records, 1868-1991.
[6] https://www.301bg.com (accessed on 16 September 2018).
[7] Mahoney, Fifteenth Air Force against the Axis : combat missions over Europe during World War II (2013), p. 352.
[8] NARA: Missing Air Crew Reports of the U.S. Army Air Forces, 1942-1947, #12917.
[9] Ibid.
[10] Ibid.