Fg Off. Arne Hroar Helvard
(1915 - 1943)
Profile
In October 1939, Helvard—then a Danish navy pilot—was decorated for the rescue of four members of the Kriegsmarine. In 1942, he escaped Denmark to volunteer for the Royal Air Force. He was killed in June 1943, when his Stirling was shot down by a German night fighter on a mission for Krefeld.
Arne Hroar[1] Helvard was born on 10 March 1915 in Fredericia. He was the son of telegraphist Jens Helvard and Angla Eugenia Helvard (née Honoré).[2] The family later lived in Hobro and Hadsund, where the father was the postmaster.
Helvard finisted a gymnasial educated at Randers Statsskole in 1933, and commenced an education as civil engineer from the Copenhagen Polytechnic. However, he found the studies boring and, in 1935, he dropped out and joined the Naval Air Service.
Navy Pilot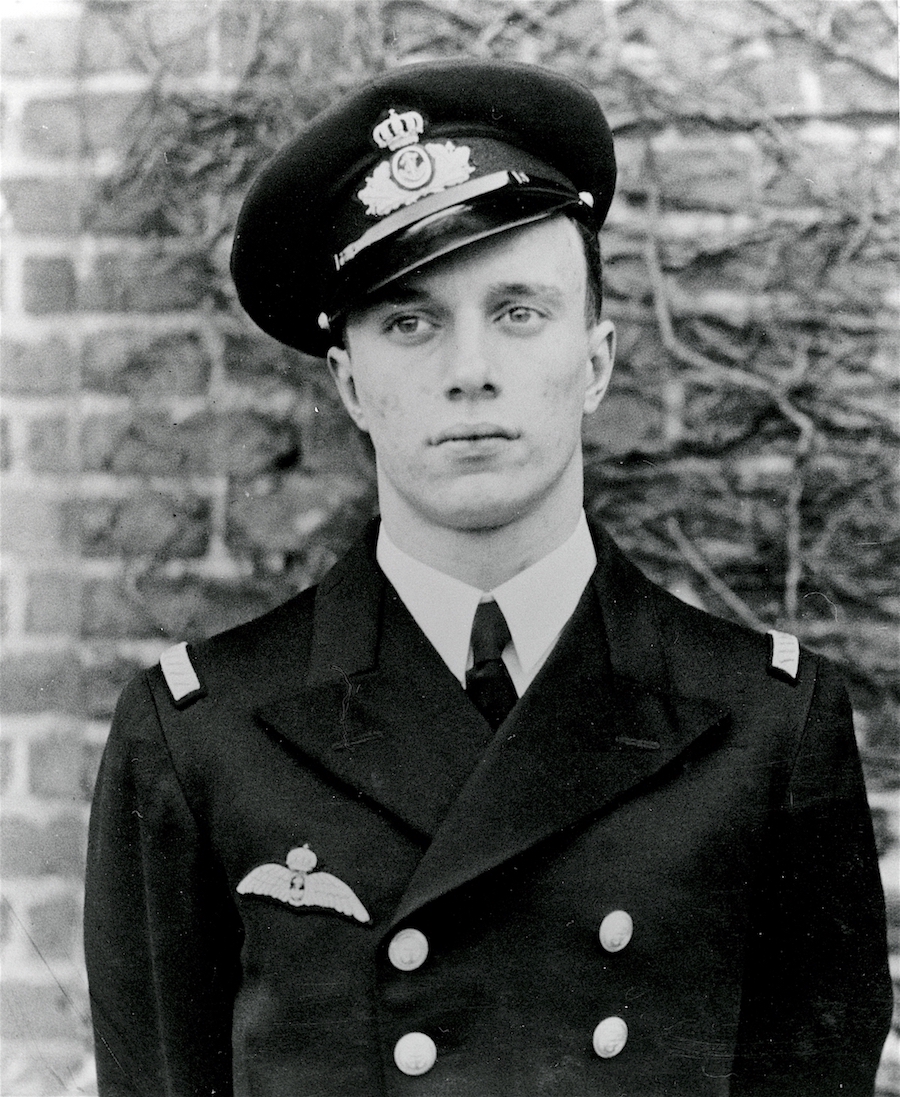 Helvard served in the Naval Air Service from 1935 to 1940. He was accepted as air cadet on 8 April 1936 and during the following months he trained at the Naval Air Station at Avnø. He finished training towards the end of the year and received his wings (pilot's certificate 77/1936). He was promoted to Flyverløjtnant II (Pilot Officer) on 22 December 1936.[3] Several of Helvard's colleagues in the Naval Air Service during these years were pilots, who would later serve in either in an Allied air force or in the Luftwaffe. In the fall of 1938, for instance, Helvard attended officers' training in company of Poul Sommer and Wolfgang Fabian (Luftwaffe) as well as Kaj Birksted (RNAF). He also had periods of training along with Henning Valentiner (FAA) and Niels Buchwald (RAF).[4]
Life Saving Hero
Helvard was promoted to Flyverløjtnant I (Flying Officer) on 1 January 1939.[5] In October 1939, about seven weeks after the declaration of war, a German vessel—Vorpostenboot V701 Este VII—hit a Danish minefield in the waters near the island of Møn. Forty-one of the forty-six men drowned. One of the survivors swam ashore and another four had managed to climb on to a wooden raft. Helvard and his observer, quartermaster Kaj Petersen, were in the air on a mine patrol, when they discovered the wooden raft in the sea. There were no ships in sight and the rough sea made a landing difficult. Nevertheless, Helvard were able to land the Heinkel He 8 near the raft to rescue the four sailers.[6] The following days, Helvard and Petersen were celebrated in the newspapers. They were awarded the royal Medal of Merit (Fortjenstmedaljen i Sølv) by the Danish King in November 1939,[7] and, in late December, they were awarded the German Rescue Medal (Rettungsmedaille am Bande).[8]
A few months later, on 9 April 1940, German troops crossed the Danish border and, following the Danish surrender, Denmark was occupied. At the time, he served at the Naval Air Station in Copenhagen. On 30 April, Helvard was demobilised.[9]
Escaping with an old Friend
Helvard was unemployed for a time, but found temporary work at the Aalborg Airport. In October 1940, he was employed at the Danish Airport Authority at Kastrup Airport (Copenhagen). He soon realised that he was able to monitor all movements of aircraft and dignitaries in the airport. He passed this information to his friend and former navy colleague, Thomas C. Sneum, when he returned to Denmark as a secret agent from the fall of 1941.
Helvard and Sneum had met at the Copenhagen Polytechnic. They had shared an interest in flying and, in 1934-35, they had trained on German Stamer-Lippisch Gliders. Later Sneum had joined the Naval Air Service as well. In mid-1941, Sneum and K. C. J. Pedersen, who later joined the RAF as well, had hade an epic escape to Britain in a Hornet Moth. Sneum was recruited by the Secret Intelligence Service (MI6), and on 10 September 1941 he was parachuted into Denmark in company with Sigfred J. Christophersen.[10] To complete the background information, the latter had served in the Danish Army Air Corps, but had escaped to Britain in late 1940 in company with Jørgen Thalbitzer.[11]
By March 1942, the Germans were closing in on Sneum, and he had to escape soon. His last safe-house was Helvard's apartment, and he trusted Helvard enough not only to tell of his escape plan, but also to ask him to come along. Helvard hesitated. He had his fiancé and his recently widowed mother to think of. Nevertheless, in the end, he decided to escape with Sneum. In late February 1942, Sneum had ordered Christophersen to escape as well. Walking cross the ice-covered Sound between Denmark and Sweden, Christophersen's brother and Kaj Oxholm had died. Sneum—who disliked Christophersen—thought that if Christophersen had been able to walk to Sweden, so could Helvard and he. Close to midnight on 28 March 1942, Helvard and Sneum started walking from Skodsborg north of Copenhagen in the direction of Landskrona in Sweden. Helvard and Sneum had a troubles crossing, and they nearly did not make it. They managed to get to Hven with great difficulties. They were held back by the Swedish police and interrogated for more than eight weeks. They were released towards the end of May, and, in mid-June, they travelled from Bromma outside Stockholm to Leuchars in Scotland. They were picked up by the police and imprisoned in Brixton Prison in London. Once again they were interrogated. Helvard was released in mid-July 1942, and he soon volunteered for the Royal Air Force.[12]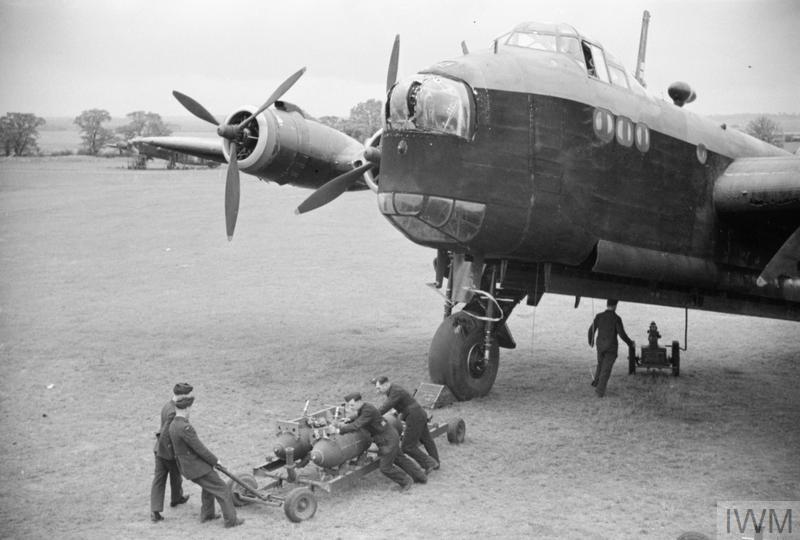 Bomber Pilot
Helvard was accepted in the Royal Air Force (128521, RAFVR). Some sources indicate that he was sent to North Africa to fly Handley Page Hampdens initially.[13] It has not been possible to confirm this. The RAF did not operate this type in Northern Africa, however.
He was posted to 1651 Conversion Unit (CU), Wratting Common, Cambridgeshire at some point in 1943 to the Short Stirling Mk. III. Completing the conversion he is posted to 218 (Gold Coast) Squadron on 13 June 1943.[14] By mid-1943, this squadron was part of 3 Group and operating the Short Stirling heavy bomber. The squadron had been involved in the Battle of the Ruhr since March 1943, and Helvard became one of five Danish airmen to participate in this part of the strategic air war over Germany.
Last Mission
On 21-22 June 1943, Bomber Command dispatched a 705 aircraft strong force for Krefeld in Germany. Short Stirling Mk. III (BK712/HA-D) took off from Downham Market at 0014 hrs. The aircraft was captained by Plt Off. William Golder Shillinglaw (412846, RAAF). Helvard was flying as second pilot on his first operation at the squadron. It was not unusual for a new pilot to fly as second pilot to a more experienced pilot before flying as captain for the first time. This was Shillinglaw's third operation, since he had joined the squadron in early June. The target visibility over Krefeld was good on this night, and the taget was marked almost perfectly by the Pathfinders. More than 600 aircraft released their bombs on Krefeld and a large area of fire developed raging for several hours.[15]
However, forty-four aircraft were lost, and BK712 was one of them. Helvard's crew never made it to the target. The aircraft was successfully attacked by a German night fighter piloted by Lt Heinz-Wolfgang Schnaufer of Stab I./NJG1. It was his 13th aerial victory. At 0133 hrs. the aircraft crashed at Langdorp about 60 km North-east of Bruxelles at 0133 hrs.[16] The eight crew members were all killed. Apart from Helvard and Shillinglaw these were 1258721 Sgt R. P. Goward (Flight Engineer), 1241848 Sgt P. D. McArdle (Navigator), 1167033 Sgt T. R. Lunn (Bomb Aimer), NZ404092, RNZAF FS D. J. Ashby-Peckham (Wireless Operator), 1581644 Sgt. A. E. Gurney (Air Gunner) and 1314568 Sgt. E. D. Hart (Air Gunner).
The crew was buried the same day in a common grave in Langdorp churchyard. Military honours were accorded the deceased by a party of 3-4 German officers and about 6 soldiers. Three rounds were fired over the graves. No civilians were allowed to participate, but a Union Jack is hung over the grave and a floral tribute is placed as well.
At the time of the ceremony only three of the crew members were identified: Sgt. Hart, Sgt. Lunn and Sgt. Turton. 1438341 Sgt. Turton was the presumed name of Helvard. It is likely that he had used this name to protect his family. Furthermore, initially it was thought that only seven bodies were recovered leading to speculation on a possible survivor. Investigating the crash the after the war the Air Ministry concluded that the eight crew members died instantly in the crash.[17]
Endnotes
[1] In some sources the middle name is spelled Rhoar. I use Hroar as this is the spelling used in official papers, including the birth registration.
[2] Parish record, Fredericia Trinitatis.
[3] DAHS: Service record.
[4] DNA: Søværnets Flyvevæsen, pakke nr. E3 (Årsrapporter).
[5] Haandbog for Søværnet 1941-1943.
[6] Da Møn for en Dag blev Centrum i en uhyggelig Krigsbegivenhed in Næstved Tidende, 23 October 1939.
[7] De to flyvende Redningsmænd i Audiens in Viborg Stifts Follkeblad, 7 November 1939, p. 2.
[8] De danske Flyvere fik den tyske Redningsmedalje in Aarhus Stiftstidende, 26 December 1939, p. 3.
[9] AHS: Service record.
[10] Ryan, The Hornet's Sting (2008), pp. 240-241.
[11] Plannthin, Danish Spitfires at War in The Tangmere logbook, Summer 2016, pp. 14-16.
[12] Ryan, op.cit., pp. 252-323.
[13] Ryan, op.cit., p. 292.
[14] NA: AIR 27/1351.
[15] Middlebrook and Everitt, The Bomber Command War Diaries (2011), p. 400.
[16] Boiten, Nachtjagd Combat Archive, 1943, Part 1(2018), pp. 125-127.
[17] NAA: A705, 166/37/124.