Sgt Ernest George Bruhn
(1892 - 1974)
Profile
Ernest George Bruhn volunteers for service in the Royal Australian Air Force in 1942 at the age of 50 years. Attached to the 9 Airfield Construction Unit, he is involved in the construction and maintenance of airfields in mainland Australia in 1942-43.
Ernest George Bruhn is born on 12 November 1892 in Merløse, Denmark. He is the son of Anna Kristine Nielsen and Ernst Bruhn, Brændholt, Sweden. [1]
Volunteers for the Royal Australian Air Force
He enlists for the Royal Australian Air Force at No. 1 Recruitment Centre in Melbourne on 6 July 1942 and is enlisted as a General Hand Works in Group Five with rank as Aircraftman 1st Class (AUS58681). He is transferred to No. 5 Recruitment Depot.
On 1 December 1943 he is remustered as Fitter General. In the Trade Test Report it is noted, that [2]
A.C.I. BRUHN. E.G., has a good knowledge of general engineering, can read and work to drawings, and has a good general knowledge and ability to read precision instruments. He has proved himself capable of installing machinery and has been trade tested […]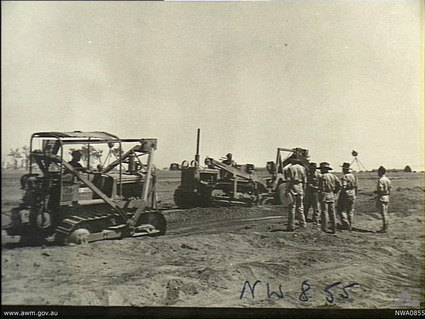 On 28 January 1943, he is posted to No. 1 Flying Boat Repair Depot at Lake Boga. This air station was commissioned in June 1942 to provide repair and service facilities for Australian, Royal Netherlands East Indies Air Force and United States flying boats. The repair depot's operational record book is evidence to the fact that in the beginning of 1943 the unit is a busy place, where Catalina's arrive from RAAF especially RAAF Rathmines for overhauls. He is promoted to Leading Aircraftman on 1 April 1943. [2]
In frontline service
On 15 September 1943 he is posted to No. 1 Embarkation Depot at Ascot Vale. From here he is briefly on 1 October 1943 posted to No. 55 Operational Base Unit as part of the personnel pool at Birdum, Northern Territory
On 6 December 1944 he is posted to No 1 Aircraft Depot, where he is posted to the end of the war. On 20 November 1945 he is posted to No. 1 Personnel Depot from where he is discharged on 17 January 1946. He is promoted to Temporary Sergeant on 1 April 1945. [4]
Source:
Merløse Parish record, Service Record, NAA A9301 58681
Service Record, NAA A9301 58681, Jubbs, 2001, Flight 12.10.44
Service Record, NAA A9301 58681
Service Record, NAA A9301 58681