LAC Anton George Jensen
(1900 - 1979)
Profile
Anton George Jensen was born in Denmark, but emigrated to Australia in 1927. He volunteered for the Royal Australian Air Force in 1942 and served though the war as well as in the British Commonwealth Occupation Forces (BCOF) in Japan following V-J Day.
Anton George Jensen was born as Anton Jørgen Jensen on 13 February 1900 in Davding (Grædstrup), Denmark, the son of farmer Niels Peter Jensen and Vilhemine Marie Jensen (née Nielsen).[1]
Jensen for England in November 1924, where he worked for 9 months before returning to Denmark. In January 1927, he emigrated to Australia, arriving at Fremantle on 17 February 1927 onboard SS Hobsons Bay.[2] For the next 11 years he was farming at Ravenethorpe, Western Australia, but having difficulties in making a living as a farmer here, he went to Kalgoorlie, where he worked in the mines until enlistment.[3]
Royal Australian Air Force
Jensen enlisted in RAAF at 4 Recruit Centre in Perth on 5 September 1942 and was mustered as General Hand (81890). The interviewing officer at the recruit centre described him as
Quietly spoken individual, without any trace of foreign accent. Seems genuine type, unobtrusive, neatly dressed. Appears to have worked hard all his life.[4]
Later in the month, he was posted to 4 Embarkation Depot (ED) in Adelaide, which was established to process men going overseas or to the Northern Area. He was posted to 55 OBU at RAAF Station Birdam in the Northern Territory as part of the reserve pool on 21 October 1942 and to 1 Repair and Salvage Unit (RSU) four days later. This unit had set up camp at Manbuloo near Katherine, but moved to RAAF Higgins Field via Darwin in mid-1943.[5] The RSUs were mobile units manned by all technical trades and carried out engine changes on forced landed aircraft, repaired damage, or boosted the manpower situation of squadrons where needed. Jensen remained with the unit for almost a year, and by then, he had been promoted to Leading Aircraftman.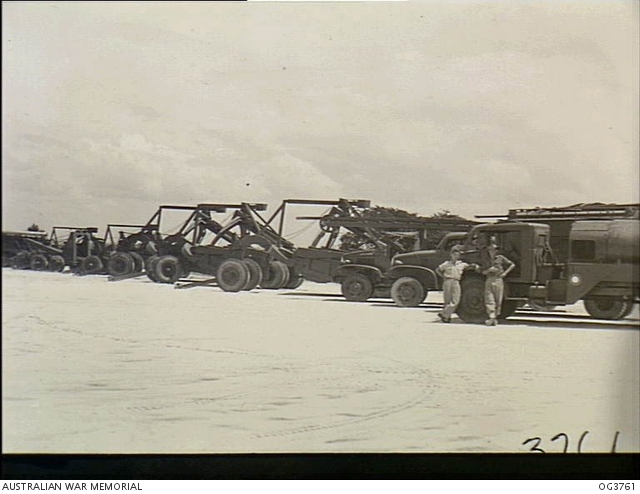 On 30 September 1943, Jensen was transferred to 11 Sqn at RAAF Cairns in Queensland. He remained here for about two months, before being posted to 7 Communication Unit on 27 December 1944, where he remained nearly until the Japanese surrender. This unit was based at RAAF Pearce and was tasked with communications, target towing and the like. Jensen had by this point remastered as Driver Motor Transport and—in this proces—been degraded for a while to AC1. He had been promoted to LAC again at the end of 1944.[6]
Occupation Forces in Japan
On 25 July 1945, he was transferred to 77 Operational Base Unit at RAAF Guildford. He may have been at this base already, as sources indicate, that 7 Communication Unit was placed here as well at some point.[7]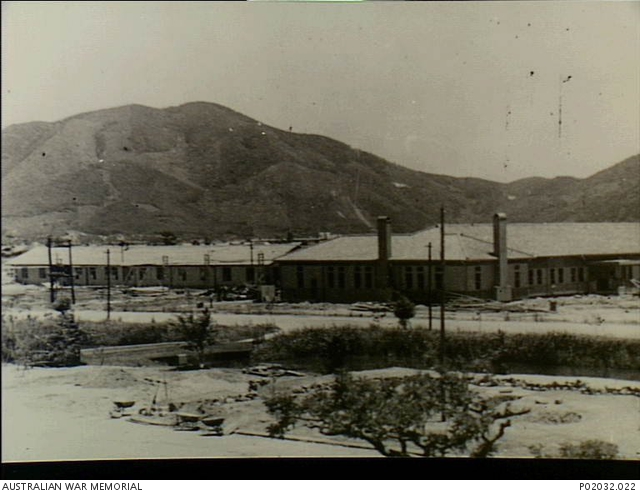 He was posted to 81 (Fighter) Wing arriving on 10 April 1946.[8] This wing formed the Australian air contingent of the British Commonwealth Occupation Force (BCOF) in Japan in 1945-48. Having transferred, the following day, he was formally posted to 5 Airfield Construction Squadron (ACS), which had been the first of the wing's units to arrive in Japan in December 1945, three months before the three flying squadrons. 5 ACS worked on the reconstruction of damaged buildings as well as the airstrips at Bofu and Miho.
Jensen signed up for service in the RAAF Japanese Occupation Force for 15-20 months after the present tour had ended in November 1946. He returned to mainland Australia six months later, however, and was discharged on 10 November 1947.[9]
Endnotes
[1] DNA: Parish record, Grædstrup Sogn.
[2] Ancestry: Fremantle, Western Australia, Passenger Lists, 1897-1963.
[3] NAA: A9301, Jensen, Anton George (81890).
[4] Ibid.
[5] NAA: A9186, 372.
[6] NAA: A9301, Jensen, Anton George (81890).
[7] RAAF Historical Section (1995). Introduction, bases, supporting organisations. Units of the Royal Australian Air Force: A concise history. Volume 1, p. 71-72.
[8] NAA: 1113/4 - Volume 2 - No 81 Wing, RAAF - Personnel Occurence Reports 1/1946 - 24/1948.
[9] NAA: A9301, Jensen, Anton George (81890).