Fg Off. Niels Juul Rysensteen Buchwald
(1915 - 1944)
Profile
Niels Juul Rysensteen Buchwald is trained as pilot three times. In England as civilian pilot, en Denmark as navy pilot and then during the war as Spitfire pilot. Tragically, he is killed in October 1944 as the allied troops advance slowly towards the Rhine.
Niels Juul Rysensteen Buchwald is born on 1 August 1915. He is the son of the prefect of Viborg S. von Buchwald. He graduates from the Cathedral School in Viborg in 1934. During a stay in England he is trained as civilian pilot. Returning home he commences studies in social science at the University of Copenhagen.
Prefers the Naval Air Service from University Studies
Restless of nature and seeking adventure, he joins the Navy before the war and is trained as pilot (pilot's certificate 91/1938). On 22 December 1938, he is appointed Flyverløjtnant af 1ste Grad (Flight 1st Lieutenant). He is discharged from the Naval Air Service in 1940 following an incident of reckless flying in a civilian aircraft. He returns to the university studies.
Volunteers for RAF
In August 1942, he manages to escape from occupied Denmark paddling the Sound between Denmark and Sweden in a kayak. In England he reports to the Danish recruiting office in London. He volunteers for Royal Air Force and is trained as fighter pilot (143462, RAFVR).
On 30 March 1943 he is attached to No. 5 Pilots Advanced Flying Unit (No. 52 Intake), at Tern Hill. He then holds the rank of Acting Pilot Officer. At the end of advanced training he is posted to No. 61 Operational Training Unit.
On 14 August 1943, two years after his escape from Denmark, he is posted to No. 234 (Madras Presidency) Squadron. He then holds the rank of Pilot Officer. He is posted at this squadron for only two months before being advanced to No. 222 Squadron.
In September 1944, as the allied forces struggle for superiority in Holland, Buchwald is about to be withdrawn from operational service. He is then in service in 222 Squadron, Royal Air Force as Flying Officer. In his memoires, the Danish legate, count Reventlow recounts a meeting with the young pilot. The Reventlows had rented a country house outside London during the summer of 1944. One Sunday, Buchwald pays the family a visit. He is then up for operational leave, and he seeks Reventlow's opinion on whether to sign up for a second operational tour. He signs up, despite the advice from count Revenwlow to do the opposite.
Some of the entries in No. 222 squadron's Operational Record Book (ORB) testify that the air was still a dangerous place to be. On 17 September 1944 the squadron, based at B.53 Merville, France, attacks long range guns mounted on railways South-West of Calais. And on 6 October 1944 he is on a dive bombing and strafing mission attacking self-propelled guns on a wood North of Baarle-Nassau in Holland. He returns with his Spitfire's starboard mainplane "bent upwards" as it is described in the squadron ORB. Another pilot of the squadron is injured, but manages to land at Antwerp.
The Last Mission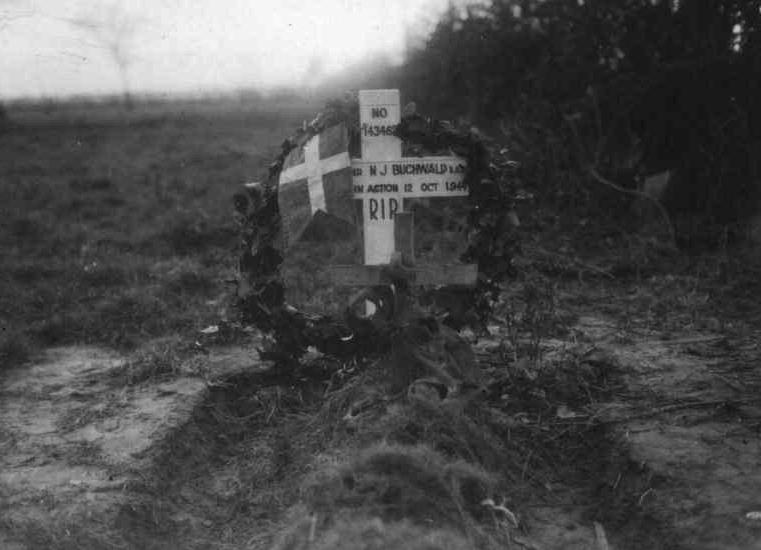 On 13 October 1944, Niels Juul Rysensteen Buchwald takes off at 1255 hrs. from Merville in his Spitfire Spitfire IX L.F. (PT718 'ZD-') on a skip bombing and strafing mission. The squadron is attacking a German strongpoint in a village at Schoondijke. Buchwald's section also strafes a number of motorised enemy transport vehicles entering the village. Following the second attack Buchwald, flying as Red 4, is nowhere to be seen, despite the section searching for him. Niels Juul Rysensteen Buchwald is killed.
He is initially buried in Holland (se photo), but in 1946 a Danish relief worker in Holland discovers the grave. On 4 November 1946, he is repatriated in a ceremony in the Cathedral in Viborg. He is buried at Bislev Cemetery.
(Andersen, 1984; Franks, 2000; Reventlow, 1956; www.cwgc.org).