Plt Off. Axel Anders Svendsen
(1922 - 1942)
Profile

A smiling and confident looking young man on a Spitfire wing; a Spitfire by the name 'Skagen Ind.' The photo was taken on 10 April 1942, the young man is Pilot Officer Axel Anders Svendsen. A fortnight later he is shot down and killed over Northern France.

Axel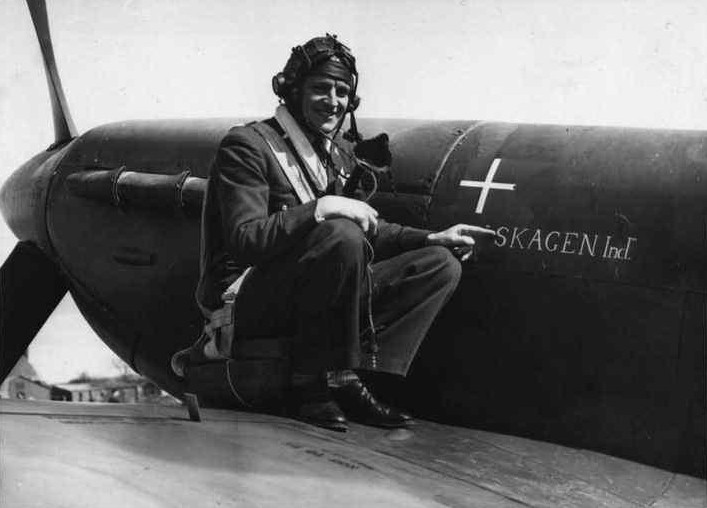 Axel Anders Svendsen (born Brabæk) was born on 26 April 1922 in Køng parish in Denmark. He was the son of proprietor Jørgen Brabæk and Anna Emilie Caja Fugl Svendsen.[1] The family moved to England in the late 1920s, but the parents divorced in the early 1930s. In 1934, Svendsen's mother married Svend Iversen, managing director of the Danish Bacon Company. The family lived in Exeter, Devon.[2]
Royal Air Force
At the outbreak of war, he volunteered for Royal Air Force aged 17, but he failed to pass the initial tests. He was accepted in the beginning of 1941, however, and commenced flying training.[3] He continued training at 5 SFTS (No 64 Flying Course) at Tern Hill in Shropshire. At Tern Hill, Thalbitzer had met two fellow countrymen: Jørgen Thalbitzer and Jens Ipsen. He was promoted to Pilot Officer (110596, RAFVR).
Following operational training at 56 OTU at Sutton Bridge, Thalbitzer and Svendsen were posted to 32 Sqn on 10 December 1941. 32 Sqn operated Hurricanes out of Manston at the time of Thalbitzer and Svendsen's arrival. Svendsen carried out seventeen operations at the squadron, but neither of them were particular eventful.[4]
The Danish Spitfires
In October 1941, the Danish Council had established a Spitfire Fund. Funds were collected among Free Danes all over the world to realise the dream of creating a squadron of Danish Spitfires manned with Danish pilots. On 9 April 1942—the second anniversary of the German occupation of Denmark—a check of £38,300 was presented to Prime Minister Winston Churchill at 10 Downing Street.
The following day, at a ceremony at RAF Station Ibsley, three Spitfires were presented to 234 (Madras Presidency) Squadron as a gift from the Free Danes. The Spitfires bore the names 'Skagen Ind.' (BL924/AZ-G), 'Niels Ebbesen' BL855/AZ-U), and 'Valdemar Atterdag' (BL831/AZ-K). A few days before, on 5 April 1942, Thalbitzer and Svendsen had been posted to the squadron, and, following the ceremony, they took two of the Spitfires to the air. The third Spitfire was flown by a British squadron leader.[5]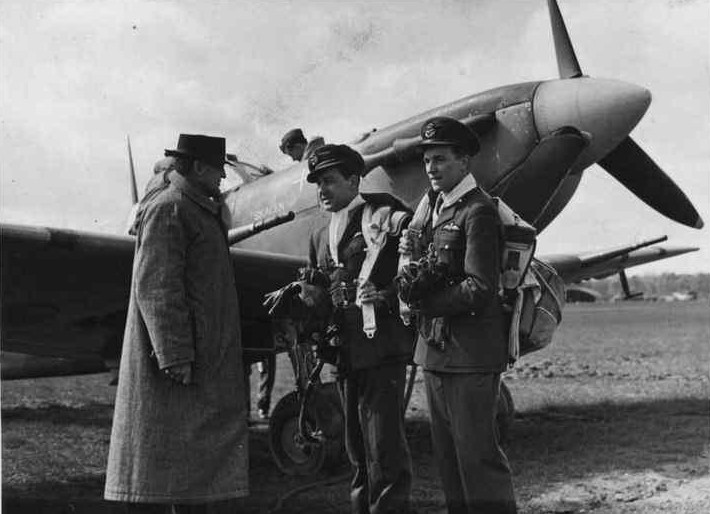 The Last Operation
Thalbitzer and Svendsen—as well as the Danish Spitfires—were soon to see battle. Svendsen flew a single mission on 16 April 1942. The next day, both Svendsen and Thalbitzer were in the air. Along with eight other pilots they participated in a Rodeo—a fighter sweep—over the Cherbourg peninsular, acting as top cover for 118 and 501 Squadrons. Three pilots were engaged in battle with Fw 190s from JG 2 and damaged one German aircraft. Over the following days, Svendsen and Thalbitzer flew several sorties together. This ended on 24 April 1942.
Fighter Command carried out two circus operations over Northern France. In Circus 133, six Bostons of 88 Squadron were to bomb the airfield at Abbeville. The Ibsley Wing, operating from Tangmere, was acting as escort. Over the French coast at Cap Griz Nez, the wing was intercepted by Fw l90s from II/JG26 from Abbeville/Durat. Four Spitfires were shot down. Svendsen and Flight Lieutenant Vivian Eugene Watkins were among the pilots posted missing in action.[6] The 234 Squadron Operations Record Book records:
The Squadron operating from Tangmere together with 501 and 118 Squadrons carried out a fighter sweep over the French coast at Berck sur Mer. Seven of our aircraft became separated from the main formation when reaching the French coast and attacked from above and astern by 20 F.W.190s. Black and Red Sections (F/Lt. Watkins (U.S.A.) F/Sergt. Fisher, (CAN) P/O Svendsen, (Danish) and Sgt. Machan (Canadian) are missing from this operation.(NA: AIR 27/1439)
The German pilot who shot down Svendsen was one of three pilots claiming a fighter in the area that day. The first was Staffelkapitan of 4th Staffel, Oberleutnant Kurt Ebersberger, who claimed his 20th and 21st victory. The second was Oberleutnant W. F. Galland, brother of the famous Adolf Galland, claiming his 6th victory. The third was Oberfeldwebel Herman Hoffmann, also claiming his 6th victory. I am not able to further narrow down the German pilot, but it is clear that 234 Squadron was unevenly matched in the air. Not only did the Germans fly more powerful aircraft, Fw 190A-2s, they were also very experienced pilots of Hauptmann Hans Jochen Muncheberg's "Abbeville Boys".
Svendsen had been at the squadron for three weeks, and flown twelve missions in eight days. He was only 20 years old. The squadron had been hit hard. On 27 April 1942, it was withdrawn to regroup at RAF Station Portreath in Cornwall.
Endnotes
[1] DNA: Parish record, Køng Sogn.
[2] Ancestry.co.uk, England & Wales, Civil Registration Marriage Index, 1916-2005.
[3] Private correspondence with the Svendsen family.
[4] NA: AIR 27/362.
[5] Plannthin, M. Danish Spitfires at War, The Tangmere logbook: Magazine of the Tangmere Military Aviation Museum (2017), p. 14-21.
[6] NA: AIR 27/1439.