Plt Off. Aksel Andreas Svendsen
(1922 - 1942)
Profile
A smiling and confident looking young man on a Spitfire wing; a Spitfire by the name 'SKAGEN Ind.' The photo was taken on 10 April 1942, the young man is Pilot Officer Andreas Aksel Svendsen. A fortnight later he is shot down and killed over Northern France. He had only just turned 20.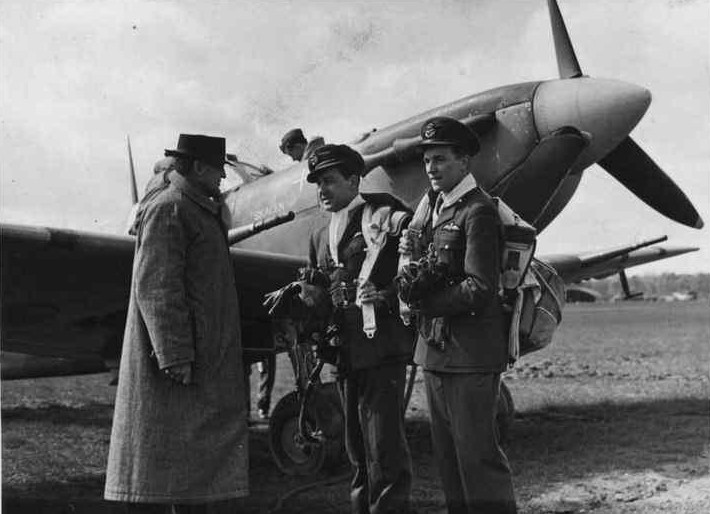 Aksel Andreas Svendsen was born on 21 April 1922 in Copenhagen, Denmark, but moved to England (Exeter, Devon) with his family in 1928. His step father is Svend Iversen, managing director of the Danish Bacon Company, and his mother Anne Caja Emilie Iversen.
Joining the Royal Air Force
At the outbreak of war, he volunteered for Royal Air Force aged 17, but he failed to pass the initial tests. In the beginning of 1941, he is accepted and commences flying training together with two ther Danish pilots: Jørgen Thalbitzer and Jens Ipsen.
On 11 July 1941, he gets his wings and is promoted to Pilot Officer (110596, RAFVR). He ends training in December 1941 and is posted to 32 Squadron flying Hurricanes. Thalbitzer is posted here as well. Jens Ipsen crashes and is seriously injured in a Hurricane the 6 November 1941 and do not end training before the end of 1942.
On 1 April 1942, Svendsen and Thalbitzer are posted to 234 (Madras Presidency) Squadron at Ibsley (30 km west of Southampton). 234 (Madras Presedency) Squadron is in the process of converting from Spitfire II to Spitfire Vb.
He is attached to this squadron when the three Danish presentation Spifires is donated in the beginning of April. The aircrafts are received at the squadron on the 5th, they are officially donated to Winston Churchill at Downing Street 10 on the 9th, and are officially donated to the Royal Air Force at a ceremony at RAF Station Coltishall on the 10th. The event is documented by a number of photographs.
The last mission
Apart from the Operations Record Book, I have not yet been able to find sources that deal with Svendsen's time at the squadron. It is clear though that he is shot down and killed on 24 April 1942 by a Focke Wulf 190A-2 over Berck-sur-Mer on the Channel Coast. Svendsen's is flying Spitfire Vb BL924 'AZ-G Valdemar Atterdag'. According to Kofoed (1994) he is logging 30 operational sorties and in all 26 hours on the Spitfire before his death.
On this particular day, RAF carries out a circus operation over Northern France, namely Circus No. 133. Six Bostons of 88 Squadron attack Abbeville. At the same time, Circus No. 132 is carried out. Twelve Bostons of 107 Squadron are bombing oil installations at Vlissingen on Walcheren, Holland. Fighters of 234, 501, and 118 squadrons are sent across the Channel Coast in order to divert the German fighters of Jagdgeschwader 26 (Foreman, 2001; AIR 27/1439).
Unfortunately, Luftwaffe (Jafü) has disguised the operation. The main force of bombers is out of reach but three Gruppen of JG26 are directed towards the three RAF squadrons. At 14.22, II./JG26 is scrambled from Abbeville/Durat heading the 30 km south to Berck-sur-Mer. The Gruppe are able to get in a favourable position vis-à-vis the RAF fighters. Crossing the French coast near Cap Griz Nez, aircrafts from II./JG26 shoot down four Spitfire Vbs of 234 (Madras Presidency) Squadron (Caldwell, 1996). One of these is the very same Spitfire that Pilot Officer Aksel Andreas Svendsen presented three weeks before: BL831 ('AZ-K Skagen Ind.'). The aircraft was flown by Flight Lieutenant Vivian Eugene Watkins an American volunteer. RAF Fighter Command pays a high price this day. All bombers return, but in all 9 Spitfires are lost.
The 234 (Madras Presidency) Squadron Operational Record Book records:
The Squadron operating from Tangmere together with 501 and 118 Squadrons carried out a fighter sweep over the French coast at Buck Su Mer. Seven of our Aircraft became separated from the main formation when reaching the French coast and attacked from above and astern by 20 F.W. 190s. Black and Red Sections (F/Lt. Watkins (U.S.A.) F/Sergt. Fisher, (CAN) P/O Svendsen, (Danish) and Sgt. Machan (Canadian) are missing from this operation. (AIR 27/1439)
The pilot who shoots down Pilot Officer Aksel Andreas Svendsen is to be found among three JG26 pilots: Staffelkaitän of 4. Staffel, Oberleutnant Kurt Ebersberger (20th and 21st victory), Oberleutnant W. F. Galland, brother of the infamous Adolf Galland (6th victory), and Oberfeldwebel Herman Hoffmann (6th victory). In other words pilots of considerable experience.
They are all part of the so-called Abbeville Boys that make life living hell for RAF pilots during 1942. The Gruppe commanded by Hauptmann Hans Jochen Müncheberg from 19 September 1941 to 21 July 1942 is the first Gruppe to convert to the then new Focke Wulf 190A which is superior to Spitfire Vb. But the Germans are not only superiorly equipped, they are also very experienced pilots. This is indicated by the fact that of the nine pilots credited with a victory on this say, eight of them already had at least five victories, while the ninth reaches five victories on this day.